Iowawhitetail forums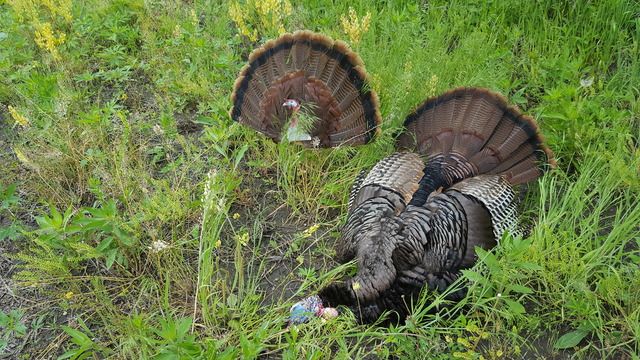 I took this one down to the wire and for the second year in a row, I filled both of my spring turkey tags.

I was planning on hunting on Saturday but when I woke up it showed rain where I was hunting so I went back to bed and planned on a mid/late morning hunt but that never happened due to on and off rain the whole day. On Sunday Emily was going to be out of town in the afternoon so I figured I would give it one last shot after church. It was pretty windy so my hopes were low but I headed south around 11:00am and kept an eye out to see if birds were in the fields since the property I was going to hunt had a few different fields. I spotted one group of turkeys as I was heading south so again, my expectations were pretty low.

As I just got to the property line I looked into a big bottom field and saw a black dot. I grabbed the binos and backed up, confirming it was a tom strutting about 350 yards off the road. I pulled down a farm entrance at 11:45, got my gear ready, and texted...
Man I got to hunt this blind 24/7.
This is a early one. Found this morning. You couldn't see it breathe but it winked. Already pretty good size.
Perfect timing on the rain, 3200 trees just planted...

Anyone else plant a bunch of trees this year??


I saw this video and thought it had some really interesting aspects on no till vs tillage - how they make it visual and simple is very good. No doubt I'm a nerd on this stuff so I find it interesting. Also- if u want some good info, keep watching some of these where they dig out soil pits to show differences in soil practices from surface to 6' under the Ground. and watch some on cover crops. Interesting stuff that I will bet would change the way you plant your farm if u spend a little time understanding the dynamics of all the options out there. Really good stuff. FYI.